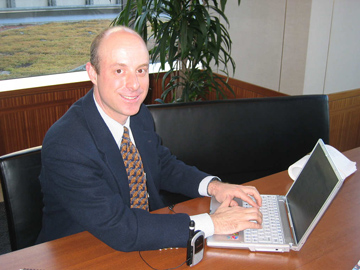 Harvard Law School gives faraway college hopefuls easier access to entrance interviews through Skype.
Before, applicants needed to fly to Cambridge, Massachusetts in order to take their shot at a sought after student slot; now, entrance interviews of the world-renowned institution will be conducted through the efficiency of online video calling.
Skype will give applicants better ways of expressing and differentiating themselves from other contenders, hopefully increasing their chances of entering the Ivy League.  Interviews will be conducted by the school's Assistant Dean and Chief Admissions Officer Jessica L. Soban, as well as by the Director of Admissions Karen E. Buttenbaum.  They will be slightly longer than the traditional ten minutes per person.
Soban shares her enthusiasm towards the new medium: "There's nothing that ultimately replaces being able to physically sit down in a room with someone, but I think that Skype is a great way of approximating that."
Although Skype will be the main mode of communication, persons with disabilities and those will limited access to an internet connection will also be accommodated via other means.
Being interviewed for Harvard Law School may be one of the greatest moments of your life, so why not preserve this memory and record the entire proceeding via SuperTinTin?  (Of course, you'll first need to ask proper permission from your interviewer before doing so.)  This way, you can look back and see that proud moment when you've managed to speak your way into one of the most prestigious schools in the world.