Skype video calls aren't really possible without a webcam (and free Skype video recorders would be such a waste, too). You can have it built-in your laptop, or just simply plug-in a webcam that could be simple and cheap or high-definition. Having a webcam for video calls isn't enough though, especially if you want to make your videos clear and pleasing.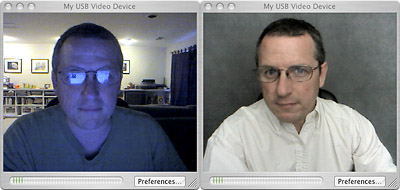 So here are some tips to have a good quality image in your video calls.
Don't use your screen as your light source; use a lamp.
Using your monitor/LCD screen as your light source would make your face color look different. A solution for this is to use a desk lamp  to make your image closer to your color. The light coming from the lamp will make the webcam lower the exposure; thus, making your color more balanced.
Soften the light
Now that you have the light from the lamp facing you, you should soften it a bit so it won't look too bright on your face. Make the light softer by wrapping or covering it with a typing paper. You can also turn your lamp and bounce the light off the wall near you.
Avoid light reflection
Adjust your monitor or LCD's brightness and contrast so the light from it won't reflect on your eyes especially when wearing eyeglasses.
Adjust to what your camera can capture
The auto white balance or exposure features works by taking the brightest thing in the frame to adjust the image quality. These are the reasons why the color of your top clothing affects it. Balance the colors between your face and everything else by wearing a white top.
Proper background
A lot of things going  on at your back could be distracting to the viewer so better face the cam on a wall than pointing it in an open space. If not, you can put up a collapsible background.
Just like when talking face-to-face, we want to clearly see who we are talking with – see their facial expressions and gestures. Making your image in video calls clear and crisp could make a big difference in experiencing these important moments.