Wherever you plan to use your Skype's instant messaging service, there would be times that you'd want to look for that specific information that you've received or sent but you just can't seem to find it . If the long messages and forgotten dates make you feel hopeless in searching for the needed details, act now and save messages with SkyHistory.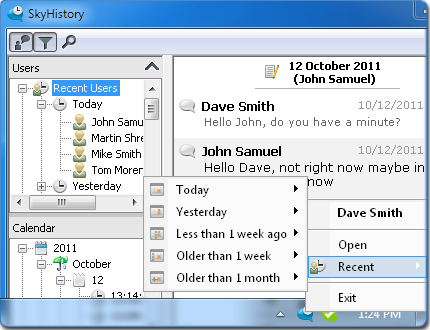 SkyHistory is a Skype application that enables you to  save and manage your chat history and call logs. You, as the user, can customize the user interface and bookmark the selected messages. Also, you can track your chat history and import the existing database.
Other features included in SkyHistory:
Enables you to define which contacts' chat history should be tracked and ignored anytime.
Easy and intuitive search for messages based on most recent chat
history, built-in events calendar and other options.
Delete a message or the whole chat session
Customize the history layout. You can change the font style, font size and color separately for each message type and message element.
Tracking chat history using the Skype SDK regardless of the global settings.
Mark important messages and add them to bookmarks.
Change the location of the history database and user settings to keep them safe or to share them to other Skype contacts
Import the existing database.
View history in the context menu
To use SkyHistory, the following are required:
PC running Windows 2000, XP, Vista or 7.
Skype 3.0.0.190 or higher.
At least a 1GHz processor, 256 MB RAM.
20MB of free disk space at system drive.
How to get SkyHistory:
In your Skype, click Tools> Apps> Get Apps…
Use the search box and type SkyHistory or look for it under the Chat History Management category
Click Get it now to download
Install it and after installation make sure to accept integration the in the Skype software after installation.
The application just sits in your system tray on start up. Just a click and you can open the program and customize its features.
Now that you have SkyHistory to save your chat messages, remember to match it up with a Skype video call recorder so you won't ask yourself anymore, "What was that again?"