It's understandable to get upset when you need to make that very important call and you find out your order for Skype Credits did not go through. When you purchase Skype Credit, it allows you to use it for calls and other Skype features when you need to, and your credit never expires so you don't leave the other person hanging when a call is cut short. This makes it possible for you to stay connected with loved ones even if they're not Skype users and even if they're halfway around the world.
To better understand what your order status on Skype is all about and how you can avoid running out of Skype credits, here's an overview.

To check on the status of your order, simply go to your "Account Details" on your Skype account and click on the "Billing and Payment" option.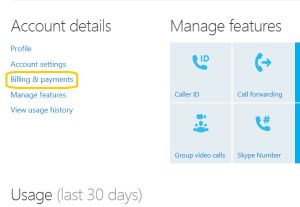 Next, click on "Purchase history" to view the status of your order.

Your orders can be found under the "Purchase history" tab. Details such as Date, Order number, Item, Amount, and Status are all clearly stated. Some order statuses you might see under the "Status' column are:


Pending
This means your order is being processed and your payment has been submitted. Depending on which payment method you chose, it can take anywhere between 15 minutes to 14 banking days for your order to be delivered.
The quickest way to purchase Skype credit is by using a credit card. PayPal, Moneybookers such as Skrill, and bank transfer payments takes longer. Note that if no payment has been received, your order status will change from "Pending" to "Cancelled."
Created
This means your order has yet to be finished. It's most likely you've selected a payment option but the payment has not reached the payment service provider.
 Delivered
Your payment has gone through the system and the order has been credited to your account. You can go ahead and start making Skype calls!
Cancelled
If your order status is cancelled, it could mean you've reached your purchasing limit, you might have entered an invalid CVC, or you've used the same credit card for more than two Skype accounts.
What you can do is try using a different payment method such as PayPal or a different credit card.
 Reversed
To protect its customers, Skype observes strict anti-fraud measures. If you find your order status is reversed, it can be that it was flagged as potentially fraudulent. Also, check if Skype refunded your purchase one to four days after you made your purchase.
If you paid through PayPal, your funds are refunded and if you purchased credits using a credit card, the transaction is effectively cancelled so nothing is charged to you.
Refused
The likely reason why your purchase has been refused is that the payment was rejected by the payment provider and not by Skype. The usual reasons are:  Insufficient funds in your account, your credit card may have been issued from a restricted country, and other issues related to your credit card details.
Try using a different payment method such as bank transfers or through money transfer methods like Skrill.
You can also choose to add more color to your calls by using Supertintin, a third party app that records your video and audio files on Skype. It's easy to use and just like Skype, it paves the way for you to connect with your loved ones meaniningfully across the world at any time of the day.