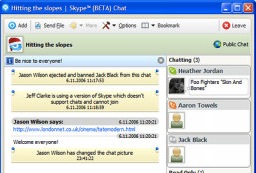 It's no wonder that Skype is one of the best communication and collaboration tools around. It's perfect to use for group conferences and group chats, whether it's to catch up with all your friends or to conduct a meeting with your coworkers. However, there are instances that you may want to restrict the people coming into your conversations. Below are a few tips on configuring Skype group chat:
Create a link for the Skype group chat. A link can actually be created so that if friends or other people can join in by simply following or clicking the link. Also, people who you don't want to include in the conversation wouldn't be able to enter the group chat if they don't have the link. To do so, create a chat, then type /set options JOINING_ENABLED. After pressing enter, you won't be notified of any changes, but the chat can now be joined by others.
Create a link in Skype. Next, type /get url, and this should show you the link that you can send to the people you want to be included in the conversation.
Make a chat password. Who would've thought you can actually put a password on group chats? With Skype, you can. Simply type /set password [password text]. There's no need to include the backets.
Configuring Skype group chats are extremely helpful, especially if there are private matters that don't need to be disclosed to everyone. One might also consider getting a Skype video recorder to record important conference calls between private or controlled meetings and conversations.
One such software that makes high-quality Skype recording is SuperTinTin. It has user-friendly interface, and creates high-quality video and audio recording. Saving memories and important calls has never been this easy. Go and visit SuperTinTin now and check out its amazing features.