With the Skype Click to Call feature, it's easier now to call landline and mobile numbers with just a click on your web browser. You don't need to type the numbers anymore in your Skype dial pad and double check if you got it all right. The latest update of Google's Chrome browser though made the extension automatically disabled along with the other third-party extensions.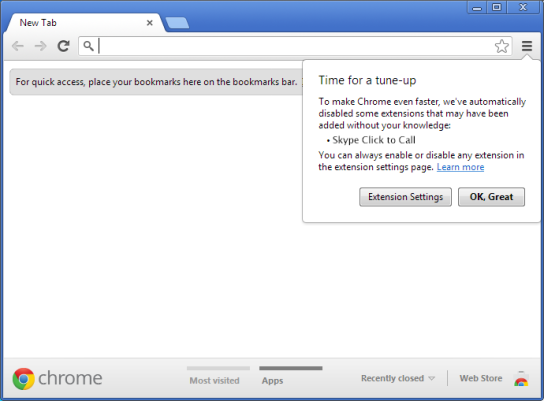 Here are the following steps to enable Skype's Click to Call extension in your newly updated browser:
You will see the 'Time for a tune-up' message which simply means your Skype has been disabled after launching the updated Chrome browser.
Select Extension Settings
On the Extensions page next to Skype Click to Call, click Enable
If you plan on enabling Skype Click to Call anytime later, you can do these steps:
Click the Chrome menu on the top-right of the browser toolbar.
Select Tools.
Select Extensions.
On the Extensions page next to Skype Click to Call, click Enable
Remember, if you want to start making calls using Click to Call just click the highlighted number on the website or select the  Call button from the drop-down menu. If you want to use more features like saving the number and sending a text message, just mouse over the number and the list of options are shown.
Be sure that you've signed in to Skype; or if not, once you click a selection from the menu, it will automatically open your Skype. Just confirm that you really want to make that certain call.
Skype makes it more convenient for you to use its features even when you're not using the actual program. It makes itself accessible to save the people from the hassle of copying and typing. If you do enjoy this feature, don't forget to download a Skype video recorder to save your audio and video calls.